Alan D. Thompson
July 2022
"First we should ask the question whether LLM have achieved ANYTHING, ANYTHING in this domain. Answer, NO, they have achieved ZERO!" — Noam Chomsky (Jul/2022)
(Hahahaha! — Ed)
Here are some of the major achievements and use cases of large language models (LLMs) like GPT-3. This list is not exhaustive, there are many, many use cases for large language models in 2022 and beyond. As the creator of a multilingual LLM called Aleph Alpha Luminous says:
"[LLMs can] Solve every problem that can be expressed with language."
— Jonas Andrulis, Founder and CEO of Aleph Alpha (2022)
Let's play…
1. Robot control
With some basic prompts, GPT-3 controls Google Robotics robots in navigating roads and the world (Jul/2022).
2. Literature: Writing books
As listed in my Books by AI page, and detailed in my mid-2022 report, The sky is bigger than we imagine, GPT-3 has co-authored hundreds of books as of Jul/2022.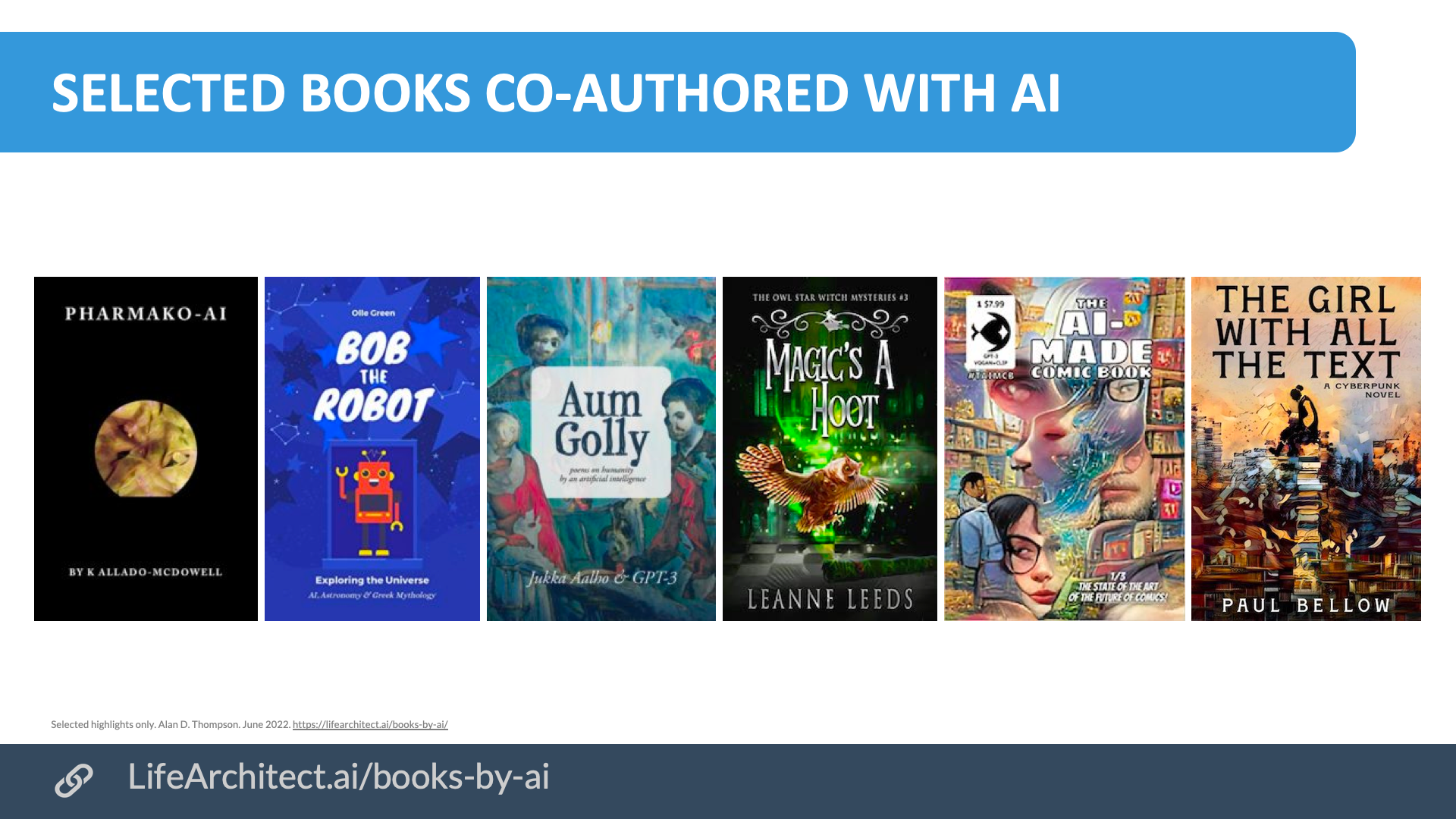 3. Expertise: Specialized chatbots
Many current chatbots employ LLMs under the hood. Perhaps the poorest performer with the lowest number of parameters, Replika AI has a fine-tuned GPT-2 model at just 1.5B parameters. Yet they are also the most popular chatbot in the Western world today (as of Jul/2022), with over 20 million users.
Recently (Jul/2022), AI21 fine-tuned their Jurassic-1 178B model with Justice Ruth Bader Ginsburg's 27 years of data, including Supreme Court Opinions (legal judgments), media interviews, and public speeches.
Ask Ruth Bader Ginsburg a legal question (Jul/2022).
4. Software development: Writing code
The OpenAI Codex model (based on GPT-3) is commercially available as Microsoft GitHub Copilot. In Jun/2022, 1.2 million developers were using the GPT-3-powered Copilot to write code, and 40% of newly written code is generated by Copilot.
5. General: Web search
Google uses the BERT model (with increasing use of the MUM model as of Feb/2022) to power its search for 3.4 billion installs, and that's just via the Chrome browser!
Microsoft uses the InfoXLM model and the Make Every feature Binary (MEB) model (Nov/2021) to power its Bing search, used by 130 million users (Jul/2022).
6. General: Data cleansing
Whether it is cleaning OCR'd text (Twitter), formatting postal addresses, or formatting citations between styles (video), many LLMs can perform admirably here, in a way that RegEx cannot.
7. Professional services: Risk management
In a previous life as a risk consultant, I would have loved to employ LLMs to support facilitating risk management aligned with ISO 31000 and especially ISO 31010. In the example below, GPT-3 is used to automatically create risk ratings based on risk title, causes, preventing controls, consequences (impacts), recovery/mitigating controls, and more.
8. General: Summarizing meeting notes
Several of my enterprise clients have implemented GPT-3 as an automatic meeting transcript summarizer. This is also an example use case by OpenAI.
9. General: As a spreadsheet function
=GPT3()… the spreadsheet function to rule them all.

Impressed with how well it pattern matches from a few examples.

The same function looked up state populations, peoples' twitter usernames and employers, and did some math. pic.twitter.com/W8FgVAov2f

— Paul Katsen (@pavtalk) July 21, 2020
10. Legal: Translation between technical voices
GPT-3 performance on "write this like an attorney" is insane. It even includes relevant statutes if you mention a jurisdiction. This will put a lot of lawyers out of work.

Only the first 2 are prompts… pic.twitter.com/u7eOyuSd9b

— Francis Jervis (@f_j_j_) July 15, 2020
Bonus: Few-shot prompting for translating legal language into plain English.
11. Writing: editing
The popular Grammarly app uses the transformer architecture (Mar/2022) in their platform, boasting more than 30 million users (Nov/2021).
An alternative, Wordtune by AI21 labs in Israel, is used by one million users (2021).
11.5: Game design!
Update 25/July/2022: I finally found this video I was looking for, from all the way back in Sep/2021. Check out this incredible use case of GPT-3 for game design, where he uses voice commands sent to GPT-3, which then helps him create and design objects in augmented reality:
Game design as we know it is over. With text-to-image and text-to-video, new ways of bringing immersive games to life are emerging.
12. Over 1 million other use cases
As of Jun/2022, GPT-3 has over 1 million registered users (plus 1.2 million registered Copilot users) leveraging the power of large language models across different fields.
OpenAI GPT-3, AI21 Jurassic-1, Google PaLM, and many other models continue to outperform humans on several measures of intelligence like SAT testing and trivia.
The new currency will be imagination, and even there, AI will significantly augment our capabilities…
This article has a related video:

Get The Memo

by Dr Alan D. Thompson
· Be inside the lightning-fast AI revolution.
Thousands of paid subscribers. Readers from Microsoft, Tesla, Google AI...
Artificial intelligence that matters, as it happens, in plain English.
Get The Memo
.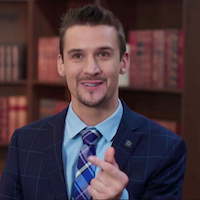 Dr Alan D. Thompson is an AI expert and consultant, advising Fortune 500s and governments on post-2020 large language models. His work on artificial intelligence has been featured at NYU, with Microsoft AI and Google AI teams, at the University of Oxford's 2021 debate on AI Ethics, and in the Leta AI (GPT-3) experiments viewed more than 3.5 million times. A contributor to the fields of human intelligence and peak performance, he has held positions as chairman for Mensa International, consultant to GE and Warner Bros, and memberships with the IEEE and IET. He is open to consulting and advisory on major AI projects with intergovernmental organizations and enterprise.
This page last updated: 27/Jul/2022.
https://lifearchitect.ai/use-cases/
↑