Enquiries
Technical & logistics details
Recent keynotes
Alan presents on current (2023-2024) artificial intelligence in seminars and workshops across many different forums.
Location
Client
Watch
Port Douglas,
AUS
Real estate conference
Keynote address on AI
–
Hobart,
AUS
Rural Medicine Australia conference
Keynote address on AI
–
Roadshow across AUS
Kimberly-Clark
Keynote address on AI
–
Gold Coast,
AUS
Transport association w senators/ministers
Keynote address on AI
–
Kyiv,
Ukraine
Devoxx Ukraine 2023: AI – Friend or Foe?
Keynote address on AI
–
Brisbane,
AUS
LawTech commercialization conference
Keynote address on AI
–
Melbourne,
AUS
Victorian Government
Keynote address on AI
Rehearsal available to full subscribers of The Memo
Reykjavík,
Iceland
ICAI, executive master in artificial intelligence program
Keynote address on AI
Available to full subscribers of The Memo
Sydney,
AUS
Kerwin Rae's K2 Elite Mastermind
Keynote address + workshop on AI
Available to full subscribers of The Memo
Adelaide,
AUS
Risk Management Institute of Australasia
Keynote address on AI
–
Perth,
AUS
Transport logistics: Heavy haul rail conference
Keynote address on AI
–
Perth,
AUS
BEP for government ministers + directors
Keynote address on AI
–
New York,
USA
For confidential government-level client
Keynote address on AI
–
Valletta,
Malta
Government of Malta
Keynote address on AI + video asset
Available to full subscribers of The Memo
Antwerp,
Belgium
Devoxx (4,000 Google/Microsoft/IBM devs)
Keynote address on AI
Video
Gold Coast,
AUS
Bond University + ActiumAI
Keynote address on AI
Video
London,
UK
For confidential Pfizer-level client
Keynote address on AI
–
Remote
(Mexico)
Australian Computer Society (700 registrants)
Keynote address on AI + workshop on GPT-3
Video
Phoenix,
USA
For confidential Goldman-level client
Keynote address on AI
–
Kentucky,
USA
The World Council for Gifted and Talented Children: Developing The Future Of Education
Keynote address on AI including the first conversation with Leta AI
–
Bangkok,
Thailand
Asia Pacific Conference on Giftedness
Keynote address on AI
–
Tributes
Alan is a dynamic and engaging speaker with a talent for making serious topics playful, and turning play into serious impact.
"Thanks Alan for featuring both Parti and Imagen text-to-image work from Google! Nice video, neat and informative!"
— Dr Jiahui Yu

"It takes a very special type of intelligence to be able to break down complex topics into digestible forms. This is exactly what you have achieved here Alan. Stellar work! I'm excited to see what trillions can do!" — Miren E.
"Thank you very much, I will read that. You are my go to person for A.I. news and staying up to date with A.I. I look forward to your YouTube video updates. Keep up the awesome work!" — Ziegler P.
"Your responses are now flagged as high priority… Thanks for all the great work, your enthusiasm and attention to detail is really appreciated." — L Pearce.
"Thank you for simplifying what is going on. I love AI and its progress but don't understand much about it." — Guilherme D.
"Currently absorbing your mid-22 report, thanks for sending that one through. As always, excellent and engaging material…" — Philip C.
"…really the best AI information to the public. Thank you soo much. It is very exciting times!!!" — SENJU
"Love you, Dr. Thompson! 👽🤟🏼 Thank you for being a scientist and participating in AI and AGI development. I appreciate this information." — SW
"I can see the excitement in your eyes. What an amazing time we are living in. I really like the idea of synthesis between humans and AI. Thank you for bringing your insight and perspective to the world." — Nicholas Behel
"Thank you. I have been trying to explain this recent quantum shift in AI but my very, very limited knowledge of the subject (I read the PDP book by Rumelhart & McClelland back in the 1980s) made it difficult for me to explain it to another person. I am still a bit disconcerted that this quantum shift in AI has remained relatively hidden from the general population as it receives little press outside the hard core geek community." — Rande J
"Brilliant videos Alan, thanks for this! All your content is incredible." — Mario Domingos
"I rarely binge watching anymore because it leaves me tired and overstimulated. But the talks with Leta are inspiring, deep and touching. What a time to be alive." — Men's Compass
"I am not sure what is more impressive
– the Leta composite of voice, visage and nuance of expression
– this overall project and its capable implementation
– or Alan's highly tuned ability to articulate and express with compelling and infectious enthusiasm
however, I do know I like it and I hope people are contributing to its continuance"
— 1001 Obeisance
"This is really blowing my mind, and seeing this fills me with awe and excitement but also fear. There is now no doubt in my mind that AI will eventually outdo humans in just about everything. The best of human professionals in any domain will be no match for an algorithm. Even programming itself, producing original useful software, even that is something AI will do better in time, learning from millions of best github repositories, maybe even identifying problems to solve with software. A new era is upon us." — FGPAOC
"Thank you for making some of the best AI content… many people are blind to the progress we're making, and your optimism and honesty are refreshing." — Gene Gray
---
"He is a very dynamic man, a world leader in the field of gifted coaching and in the understanding of both gifted children and adults alike. — Tony, an audience member at the 2017 Perth seminar
"Alan has a wealth of knowledge and experience working with families of Gifted Children. His friendly manner made his audience feel comfortable asking questions. We were grateful to have him share his message about the importance of combining IQ with persistence and resilience. — Tanya Atherton. Head of Gifted and Talented. Sacred Heart College. Perth, Australia.
"You were the best out of all the speakers in the whole conference… You look like you really enjoy it… I'd read the national report already, but you really brought it to life; I learnt some new things! — K Baulch, at the 2016 National Conference on Giftedness
"Sitting through eight hours of other speakers was worth it, just to hear you speak at the end of the day. Your way of presenting brilliance and high performance is fantastic! — Sonja, an audience member at the 2015 International Conference on Giftedness and Talent Development

Top 3 keynotes by Dr Thompson in 2023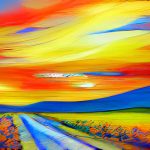 AI report
. A colorful presentation on AI and you!
Learn:
– What happened this year, across several major industries.
– How to ride the wave of the current AI explosion, in business and life.
– Preparing for the accelerating change of artificial intelligence (2023+).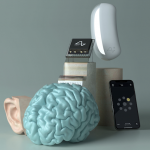 Brain-machine interfaces and AI models
. Preparing for integrated AI and superintelligence as the rising tide lifting all boats.
Learn:
– How the latest BMIs work, invasive vs non-invasive, performance.
– DeepMind Gato, Google PaLM, and other options for AI integration.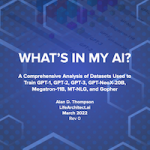 What's in my AI?
An engaging presentation highlighting datasets used to train major AI models, with visual comparisons and live demo.
Learn:
– How AI labs collect & select data, filtering, censorship, & optimization.
– Possibilities for the next generation of AI (2023+) & multimodal data.