All quotes by Alan, and spoken by Alan. Permission is granted to use in full, with appropriate attribution. This permission applies to all mediums (audio, video, written, and any other).
Download
"The genie is out of the bottle! With the release of GPT-J by EleutherAI, Jurassic-1 by AI21, and other very large language models, artificial intelligence is already changing the world. It's done."
Download
"Artificial intelligence is already far more creative than any human. As of March 2021, just a single American language model (GPT-3) was producing an entire public library—80,000 books worth—of new content every single day.

We could say that GPT-3 alone is currently 10,000x more productive than any human."
Download
"Understandably, humans have always had concerns about any new technology. We worried about the dangers of electricity in the 1800s, the safety of air travel in the 1900s. Artificial intelligence is beyond any of these discoveries. We have more safeguards in place, and AI is vastly more life changing. It's here. It's done. Let's integrate it."
Download
"Across multiple measures, the current generation of AI is already more advanced than any human brain. Current language models like GPT-3 and Jurassic-1 achieve the highest performance outcomes in subtests like creativity, vocabulary, information and general knowledge, reasoning, induction, and working memory."
Download
"Artificial intelligence is impacting every single industry and field, from accounting to zoology. Far from hurting humanity, AI is replacing repetitive and tedious processes, while enhancing our lives."
Download
"Artificial intelligence is moments away from being available to our biological intelligence, supplementing and even replacing it in a safe and uplifting way. The AI language models and brain-machine interfaces being developed and released right now are leveling the playing field for all humans."
Download
"When a subset of SAT questions was administered to the GPT-3 language model, it scored 15% higher than the average university applicant.

While the AI creators tried to downplay this, the fact remains that in 2020, AI was already outperforming most humans in complex achievement testing designed exclusively for humans."
Download
"In the 90s, we used to comment that internet time was at least seven times faster than normal time. Some of my colleagues have observed a further speed increase with AI. Dr Kurzweil anticipated 20,000 years of technological progress this century, and Professor Hanson estimated a doubling of the economy every week.

In 2021, we've seen more than one major new AI advance every month. From Wudao to LaMDA to GPT-J to Jurassic-1 to Dojo, the pace of change is extraordinary.

In the four years since the launch of Google Transformer in 2017, I believe we're seeing 10 years of progress for every normal month, and over 100 years of progress for every normal year."
Download
"In late August 2021, an OpenAI partner announced that GPT-4 will have around 100 Trillion parameters. That's over 500 times larger than GPT-3. Or, roughly the same number of parameters (connections between nodes) as there are human brain synapses (connections between neurons). Are you ready?"
Download
"If Apple Siri is a Hot Wheels toy car (no engine), and GPT-3 is a Toyota Corolla (a standard car), the next language model will be a McLaren Supercar or a Tesla Roadster (0-100 in 1.1 seconds). Somewhere in an AI lab right now is the beginning of something that is not a car. It might be a Boeing 787 Dreamliner or an International Space Station or even a universal electricity grid. Parts of you are inside its dataset: your comments, your documents, your images… That one will upend the world!"
YouTube playlist: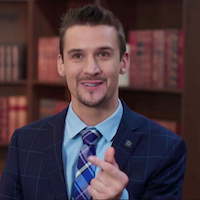 Dr Alan D. Thompson is an AI expert and consultant, advising Fortune 500s and governments on post-2020 large language models. His work on artificial intelligence has been featured at NYU, with Microsoft AI and Google AI teams, at the University of Oxford's 2021 debate on AI Ethics, and in the Leta AI (GPT-3) experiments viewed more than 3.5 million times. A contributor to the fields of human intelligence and peak performance, he has held positions as chairman for Mensa International, consultant to GE and Warner Bros, and memberships with the IEEE and IET. He is open to consulting and advisory on major AI projects with intergovernmental organizations and enterprise.
This page last updated: 5/Oct/2021.
https://lifearchitect.ai/sound-bites/
↑