Hi remote clients!
When you're interstate (Australia) or overseas, I must rely on you to provide a couple of resources for the coaching evaluation session (and sometimes other sessions too!). Here they are:
1. A small box of Lego for each person (parent and child).
Each box should have 1x baseplate (the green thing), 2x people, and a lot of random Lego bricks/blocks/things.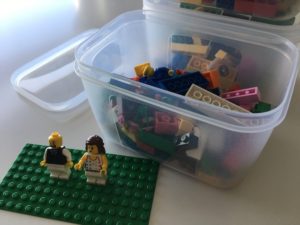 2a. A flip pad with at least 3 pages.
This one is A0; about 1 metre by 80 cm. If you can't find a large flip pad, some large paper (butchers, A3, or even A4 paper) is fine.

2b. A bunch of coloured textas (markers for the Americans!).